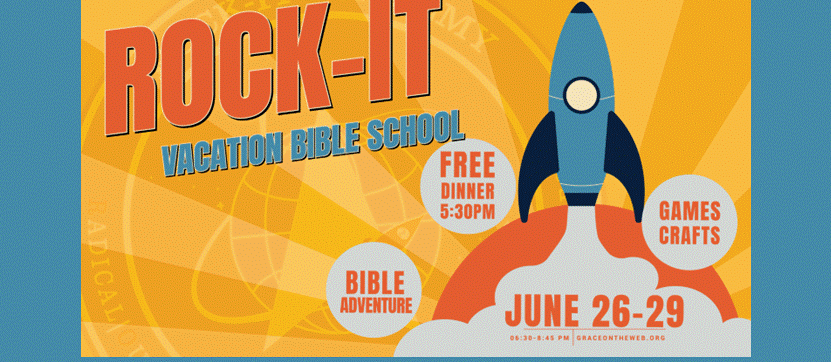 ROCK-IT Vacation Bible School
We want to invite all kids 4 years old through 6th grade to come be a part of ROCK-IT Vacation Bible school (VBS).   We have many things planned for the week of ROCK-IT  VBS so that we can go on an out of this world adventure through God's word together.
The ROCK-IT VBS training Academy's mission is to help kids understand their gifts and talents and how they may be used to bring the Good News to the world.    A life that is courageous and prepared to face the challenges that come.   A life that stays on task, remains on mission, and on target in its pursuit of God and his Kingdom.
Each night we will have bible stories, crafts, games, music, food and more.  All designed to help kids understand God's unique plan for them.  Special events are planned for the week of ROCK-IT VBS including our Carnival celebration at the end of the week.
ROCK-IT VBS will take place nightly beginning Monday June 26th through Thursday June 29th from 6:30 to 8:45 pm.   Our Carnival celebration will begin at 6:30 on Friday June 30th for all kids and their families that participated during the week.
A free dinner is available for all kids coming to ROCK-IT VBS from 5:30 to 6:15 Monday through Thursday.   Carnival foods and snacks are available the night of the carnival.
Everything is free for the entire week.  We don't want you to miss out.  So please register today and invite a friend to do the same.   Please contact the church for more details at 816.279.2090.